Mt. Olive came back to Forest Park Village for their Youth Mission week. They spent the week of June 26th on our campus clearing out overgrown brush and foliage between the Adult Day Center and North garage. As if that weren't enough, they also painted the hall of the 5th floor north wing and weeded our campus.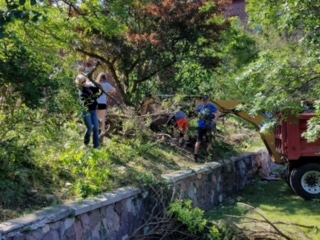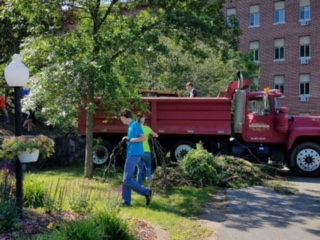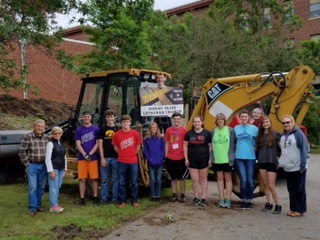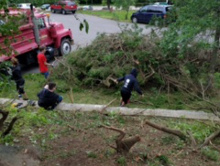 Homme Inc. of WI Auxiliary 50th Strawberry Festival June 11th at Homme Home of Wittenberg.
The Festival starts at 11am – 3pm. The Festival includes Lunch for $5, Strawberries & Ice Cream $3, Free Games, coronation of our King and Queen, and Polka music with Gary Kuchenbecker. Homme Inc. of WI Auxiliary Strawberry Float will be in the Wittenberg Community Days Parade at 12pm.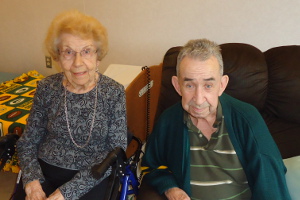 Homme Home's 50th Annual Strawberry Festival Sunday, June 11th.
Homme's Home's 2017 Strawberry Queen is Ann Block. Ann is 96 years old and has been living at Homme since December. Ann is originally from Symco, Wisconsin but has spent most of her life in Wittenberg. She married husband Benjamin in 1940 and together they raised two sons Randal and Wayne. When her sons had gotten a little older Ann fulfilled her lifelong dream of becoming a beautician. She owned Ann's Beauty Salon for 35 years. Ann is now the proud grandmother of 6 great-grandmother of 11 and great-great-grandmother of 1. Prior to living at Homme, Ann was a dedicated quilter with the Homme Auxiliary for 12 years. Alongside her fellow quilters she helped to make over 400 quilts.
Jack Bonnell is our 2017 Strawberry King. Jack has been a resident at Homme since 2016 and is currently 89 years old. Native to Antigo, Jack moved to Wittenberg only a few years ago. Previously he was a shoe cutter for 43 years with Weinbrenner Shoe Company in both Antigo and Merrill. He says he enjoys watching TV, going outside to watch the birds or people walking by, reading the newspaper, and doing his daily exercises. Jack is excited to be Strawberry King with his good friend Ann.