Corporate Golf Sponsors
Remodeling at Forest Park Village – Common Area Enhancement
In March we announced a goal to do some Common Area Enhancements in our main building of Forest Park Village. The ideas for these enhancements have come out of feedback from our annual satisfaction surveys. The receipt of a grant from The North Central Health Protection Plan Fund of the Community Foundation of North Central Wisconsin of $2,855 has made Phase I of IV phases a possibility and officially kicked off our work. We are pleased to announce that we have received an additional $5,000 from the same group: The North Central Health Protection Plan Fund of the Community Foundation of North Central Wisconsin for Phase III in expanding our Fitness Room. We are so very grateful for these grants and the support of our community but have a long way to go to pull the full project together. So we need your help to raise the funds to complete this project. If you would like to take part in sponsoring some of our project please contact Forest Park Village at 715-845-1214 ext. 311. or 
amyf@homme.org
.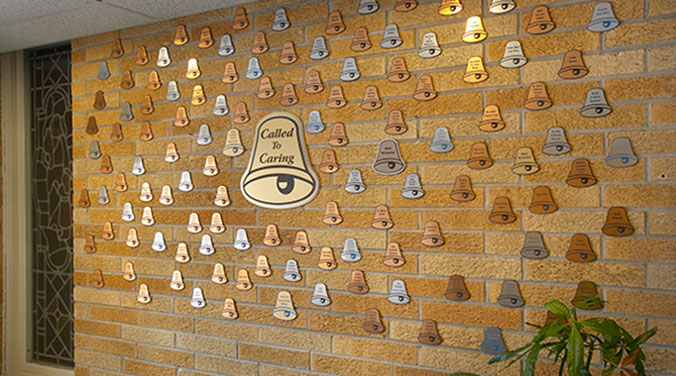 Raise The Bell Recognition
We recently updated our Raise the Bell Wall. The bells represent donors who achieved a bell level since 2007. To commence our donors and the bell level they achieved the Homme Home Foundation hosted a Recognition Program on March 23. At this program we honored 413 donors who are either new to the bell wall or donors who have advance to a new bell level. We appreciate all our donors and this allowed the Foundation staff and Board Members to say thank you to our donors. Our donors assist Homme in many different ways. They assist Residents with financial living expense, they assist with our Resident Programs (Pet Therapy, Music & Memory) and they are a good portion of why we have received remodeling at Wittenberg and Wausau Campus. Our Foundation is the smallest entity of Homme Home organizations, but it makes a huge impact on our Residents and Staff and we owe that recognition to all our donors!
Why Be a Part of Homme's Mission?
To put faith into action
To honor or memorialize a loved one
In recognition of a need
To do the right thing
For a valuable tax deduction
To recognize a valued employee
To ensure the Homme ministry lives on, a ministry that has played an important role in your own life or the life of a loved one
To enhance and encourage family and friend involvement